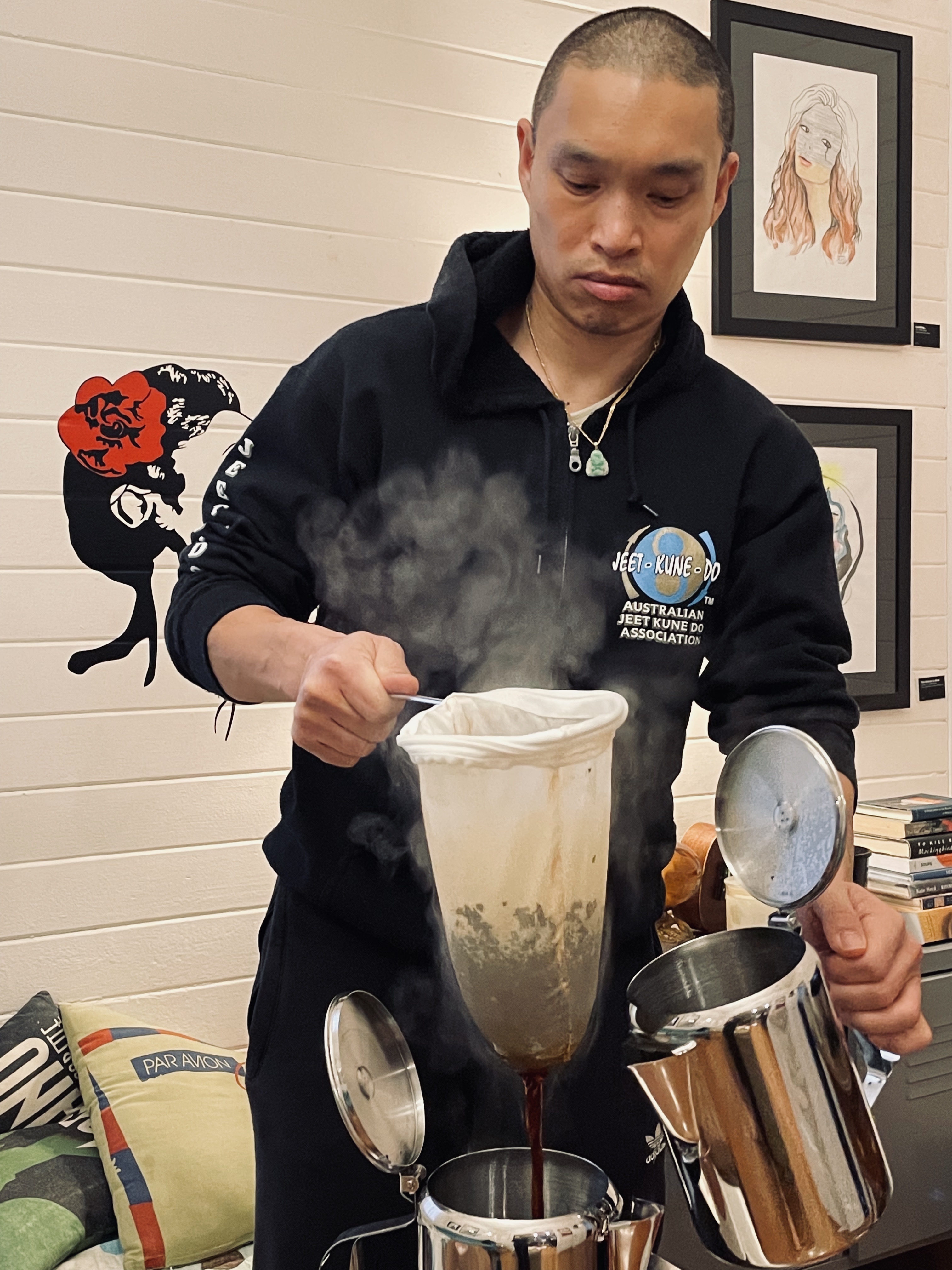 How to Make HK Milk Tea
Equipment:
2x large brewing vessels, something with spouts and can be placed on stoves
A large strainer (HK milk tea ring and stocking ideal, if not a heat-resistant sieve with muslin cloth tied around it.
Stovetop or hotplate
Tea:
Traditionally 3x different cuts of Sri Lankan black tea - fine (fannings), mid-size, coarse i.e. FBOPF, BOP, FBOP - drop us a line if you want us to blend this up for you. If unavailable, a single fine-cut Sri Lankan black tea can be used although it will not have the ideal complexity.
Method:
Place strainer into one brewing vessel. Add 3/4 cup of tea leaves in strainer. Fill with 1.5 litre of boiling water.
With strainer and tea still inside, place vessel on stove and allow to simmer.
Once tea starts to bubble, continue simmering for another 5 minutes.
Holding an empty second brewing vessel in one hand, swiftly but carefully transfer the strainer with tea leaves with other hand. Tip: lift the strainer directly above its original brewing vessel first, allowing the tea to continue flowing down then bring the second vessel to catch the downflow - this will create less mess than bringing the strainer horizontally across.
Once the strainer is transferred, pour the tea from the original vessel back through the strainer now sitting atop the empty vessel.
Steps 4 and 5 together is called "knocking the tea". Knock the tea four times i.e. repeat this process three more times.
After the final "knock", place the vessel that has the strainer and tea infusion back on a simmer until it starts to bubble again. Turn off stove, remove the strainer and spent tea leaves. The tea is now ready.
Fill a tea cup with 1/4 to 1/3 evaporated milk. Pour tea into cup.
Allow any remaining tea to cool to room temperature, then refrigerate. Can be reheated on the stove later.